The Turneys
William Ward Turney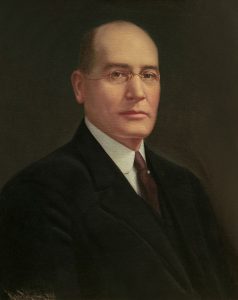 William Ward Turney was born July 11, 1861 in Marshall, Texas. He attended Sam Houston Normal Institute (now Sam Houston State University) in Huntsville, and began a career as a teacher.
He secured a teaching position in the frontier military town of Fort Davis. At this time, Fort Davis was a town of "eleven saloons, four stores, a fort, and seventy-five school children." By all accounts, he was a competent teacher. To earn extra money, he drove the mail truck from Fort Davis to the nearby "city" of Murphysville (later called Alpine).
After passing the bar exam and receiving his license to practice law, he realized that Murphysville held more opportunity for him. He left the teaching profession and set up a law office in Alpine. As the first county attorney of Brewster County, Turney was known to be tough. He prosecuted gamblers and carried a gun everywhere he went. It was in Alpine that he met Iva Guthrie, a young teacher. They dated for many years before he felt he had enough money to marry her (which he did in 1892). One of the reasons he had little actual currency was that his legal practice primarily involved area cattlemen who paid in steers instead of cash. His herd of "legal fees" eventually grew to some 18,000 head, and his love of the cattleman's life began with his purchase of the 200,000 acre O2 ranch in Brewster County.
While life in Alpine seemed to suit the Turneys, a visit to El Paso in 1892 while campaigning for the state legislature made Turney consider the possibilities of life in the new boomtown. Since El Paso was still in Turney's legislative district, which at the time stretched all the way to San Antonio, he decided to make the move. While serving in the Texas House of Representatives from 1892-1896 and the Texas Senate from 1896-1902, he continued his legal practice. He was a partner in Turney, Burges, Culwell, and Pollard from 1893-1938, and a partner in Jones, Turney, Hardie, Grambling, and Howell from 1938 until his death.
As a lawyer and legislator, Turney was known for his work on issues affecting cattlemen of the Southwest. He was also involved in the creation of Elephant Butte Dam and lobbying for El Paso's water rights. He had many significant legal clients, including the Atchison, Topeka and Santa Fe Railroad, the El Paso Union Passenger Depot Company, and the Texas Cities Gas Company. He also served two terms as the president of the Southwestern Cattle Raisers Association.
While W.W. Turney had many notable achievements on a state and national level, he and his wife are considered founding members of the modern city of El Paso. According to Mrs. Turney, El Paso was "just a village full of sand dunes," when she first arrived in 1893. The Turneys would soon change this with the building of their white brick antebellum style home in 1908. Designed by famed architect Henry Trost, the Turney home on Montana Street was truly a hot spot for the local elite. The Turneys were famous for throwing giant parties on a regular basis-some for visiting dignitaries such as General John J. Pershing, and some just because, like the Sun Carnival, which the Turneys helped organize.
Iva Turney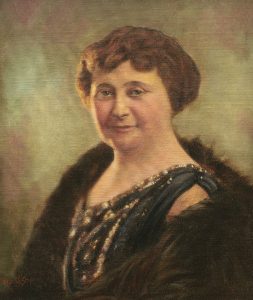 The Turneys never had children. Frequent visits to her ranch and participation in social and charitable organizations kept Mrs. Turney busy while her husband was away on business.
Mr. Turney died in 1939. To settle his estate, Mrs. Turney deeded the home on Montana Street to the city of El Paso. The city then leased the building to the El Paso International Museum. Mrs. Turney served on the Museum's board of trustees and toured the Museum frequently.
Mrs. Turney lived out the remainder of her life in the Paso Del Norte Hotel (now the Camino Real). Mrs. Turney continued to be active in the ranching community, attending conventions of the Texas and Southwestern Cattle Raisers Convention and operating the ranch she inherited from her parents. Mrs. Turney died in 1960.