Alan Bean
Seldom do people reach greatness in more than one field. Most men who have walked on the moon are known for just that. Alan LaVern Bean is a notable exception. Not only is he known for being the fourth person to walk on the moon, he is also a famous artist. The International Museum of Art has been lucky enough to sponsor Bean as a guest speaker in El Paso and to receive from him the painting Preparing to Pull the Plutonium.
Bean was born in Wheeler, Texas, in 1932. After receiving a B.S. degree in aeronautical engineering from the University of Texas, he entered the military, serving as both a fighter pilot and a Navy Test Pilot. After being selected by NASA in 1963, several years of training and waiting followed until Bean was selected for Apollo 12. He landed on the surface of the moon in November of 1969.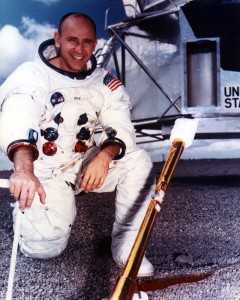 Although he continued working for NASA for many years afterwards, he retired in 1981 to devote the rest of his life to his other love, painting.
Since Bean is fortunate enough to have seen worlds that other artists have not, his paintings are truly unique. All of his work draws on his own first-hand experiences in outer space. Still, he values his artistic license. "If I were a scientist painting the moon, I would paint it gray. I'm an artist, so I can add colors to the moon." Bean is quoted as saying. Yet, part of the moon's surface permeates almost all of his work. He uses the same hammer he used to pound the flag into the moon for adding texture to his paintings. He is also said to use moon dust in many of his works.
Preparing to Pull the Plutonium
One of the International Museum of Art's prized possessions is an original painting by the fourth man to walk on the moon, Alan Bean. It is titled Preparing to Pull the Plutonium and is displayed in the main lobby.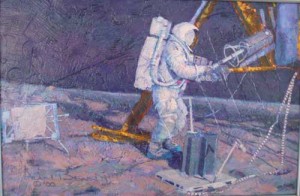 More by Alan Bean
To see more works by Alan Bean, visit his online gallery, www.alanbeangallery.com