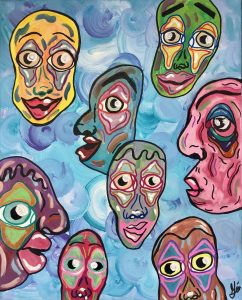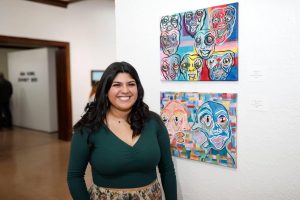 ---
Gia Flores-Arellano
Instagram @elabismodegia
Portfolio Website: here
Gia Flores-Arellano is an abstract artist from El Paso, Texas. Flores received an Associate's Degree in Art from El Paso Community College. She is currently a student at The University of Texas at El Paso, where she is studying Painting with a minor in Museum Studies. She also interns at the International Museum of Art as an introduction to the museum curator field. In addition to being a full-time student and an intern, she owns a small business called Abismo. Her first artistic encounters occurred when she was in high school. Flores despised art throughout high school, despite having to take art classes. Her passion for art began when she created her first artwork, My Muse, in her senior year. One of her classmates was the source of inspiration for this project. The classmate was a friend and she wanted to depict him as a painting to demonstrate his personality. This friendship was the basis of the Abismo motif. Abismo means "abyss" in English, and her artwork reflects that.   Abismo is her inner darkness. Bringing Abismo to life generates the reality that she sees in her own life and other people's lives.
Through paintings, Flores depicts her Abismo. Her painting style allows her work to be consistent and each line to become more distinct as the canvas evolves.  She chooses people with who she has crossed paths and uses them as her subject matter. The personalities of people she has met are depicted in her paintings are sometimes unable to articulate their emotions to themselves or others. Each face reveals a wide range of personalities as well as who or how the individual is. The background is a mixture of figures that reflect the moment and place each face interacted. The various colors represent how many different personalities work together to generate a powerful feeling. Each painting conveys a distinct message. Her artwork depicts a tough or happy moment throughout her life. She continues the emotional tone through how she chooses the titles of her pieces. The paintings are titled in Spanish to reflect the influence of her Mexican heritage while growing up in the Mexican-American border community.
---
Q&A
1. What influenced you to become an artist?
The impact of becoming an artist came as a complete surprise. In high school, I took a studio class and used that to develop my artwork. I had to come up with a theme for my medium, and I had to pick people. I was intrigued by the concept of people. Mostly because social standards can sometimes be used to represent people's personalities and feelings. It turned into something more after following the concept. That's how I became an artist, discovering that art was what made me happy and resolving to pursue it, which completely transformed my life.
What inspires you? What do you do when you get into a creative block?
My shower tile has served as inspiration for my art, as has my imagination for what I'm trying to create on my canvas. Every face in my work expresses a person's or personality's feelings. These two collided by giving each piece a distinct feeling. When I'm stuck in a creative block, I try to think of fresh ways to get motivated so that I can come up with something new to bring life to each face. 
How would you describe your style? When did you first know you had a personal style? 
When I first realized what I wanted to do with my artwork, I wanted to use geometric and irregular line work on the canvas. I knew that combining different colors and lines would result in very diverse backgrounds. Having the ability to use any line and figure allowed me to experiment with numerous approaches to keep my style visible and consistent throughout my artwork. When others saw my work, they remarked on how nice the background was. This taught me the importance of conveying emotion, even if it was just a plain background.
What would you like the viewer to take away from your art? 
What I'd like the viewer to take away from my artwork is their own interpretation of what each face represents or feels like. This adds to the mystery because receiving another person's opinion could mean a lot more to my artwork and interpretation. I wanted them to leave knowing that each face evoked an unexpected emotion that could help them understand how I felt when I produced the piece. 
How has it been to work with artists whose work is different from yours?
It was the first time I collaborated with other artists. I was nervous because I didn't know how they would react to working with a rookie. Their enthusiasm drew me in to collaborate with them. I knew they'd think the same way I did about the show. I realized how great our color palettes were after setting up the pieces and seeing our artwork together. Sharing this precious occasion with them made me proud and pleased. Pamela and Joanna are two of the most talented artists I've ever had the pleasure of working with. They made me feel welcome and cared for. They became not only teammates but also friends of mine. This experience will be with me for the rest of my life, and I will be eternally grateful for the opportunity to have worked with them.
What are your future plans as an artist?
As an artist, my long-term goals are to complete my bachelor's degree and then attend graduate school to pursue a career as a Museum Curator. One of my dreams was to have my artwork displayed in a museum, and that desire was just fulfilled here at The International Museum of Art. I want to continue to develop as an artist and meet more people in the community. Maybe one day I'll own a museum to support artists flourish and gain the opportunities I've been getting as an intern. Overall, this is only the beginning of my journey, and I'm looking forward to seeing where it takes me next.