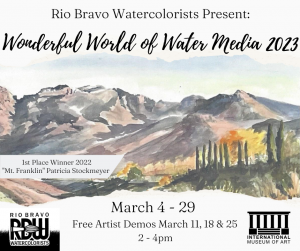 As a part of the RBWs Wonderful World of Water Media they will be hosting free demos every Saturday of March. 
---
March 11
Join the RBW Saturday, March 11 from 2 – 4pm for a fun day of art with a demo by local artist Carmen Navar – Cadenhead in Experimental Art Making, using Mixed Media, and Watercolor.
Carmen Navar Cadenhead is an award-winning, mixed media artist. She uses different techniques, materials and styles to define her work. Among these styles she frequently combines surrealism, abstraction and figuration to create her paintings. Her favorite motto is "Do More. Keep evolving, growing and creating". Her work can be found in the United States, Europe, Canada, Mexico and South America. Follow her Instagram @carmennavarart
---
March 18
Thank you so much to the Rio Bravo Watercolorists and Dorian Clouser for offering a free demo on March 18. Unfortunately Lorena was not able to make it for the demo but Dorian was a wonderful teacher as she led us through color theory, how we each can shape our relationship with color and how that reflects through our art.
---
March 25
---
Van Gogh's painting of shoes is undeniably moving, even though it's just a pair of shoes. Come enjoy the power of everyday things. We'll dive into a fun rabbit hole, and you'll never again puzzle over what to paint next. Rhonda Doré is an abstract painter who also works representationally every day.
---
Thank you to everyone who participated in any of the demos, and a special thank you to our teachers Carmen Navar Cadenhead, Dorian Clouser and Rhonda Dore!