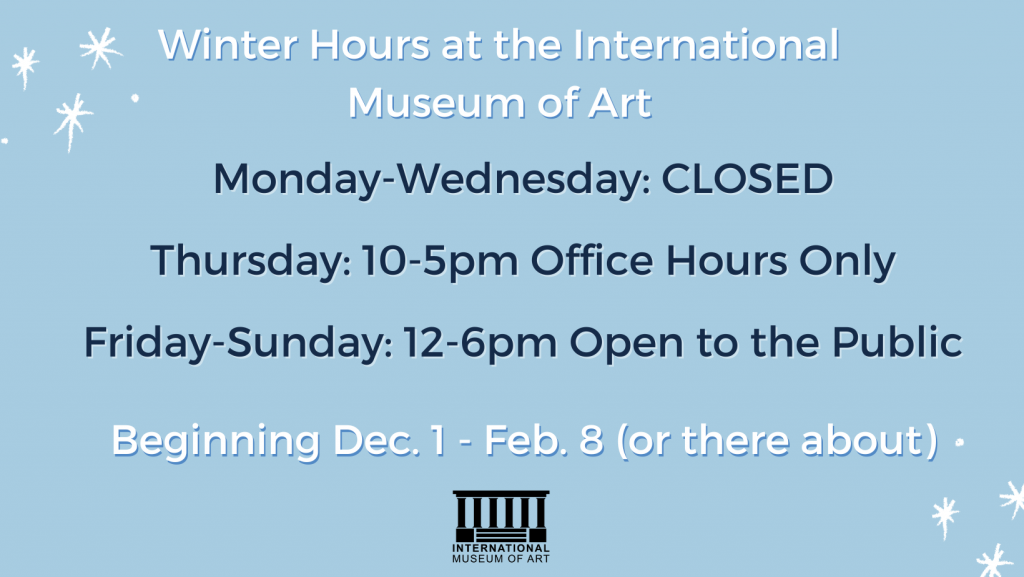 ---
Starting December 1, 2022 the International Museum of Art will be switching to winter hours. We will remain on this schedule until February 8 (or there about).
We deeply appreciate your understanding and are grateful for your patronage during our new hours.
Monday-Wednesday: CLOSED
Thursday: 10-5pm Office Hours Only
Friday-Sunday: 12-6pm Open to the Public
On Thursdays, our staff will be available to help answer questions about rentals, photoshoots and planning visits to the museum. Photoshoots and private events can still be booked on Thursdays, during operating hours, but our collections will not be open to the public.
Events scheduled on Wednesdays that were booked before November 23, 2022 will remain as scheduled and our staff will work diligently to accommodate your event.
For all events booked after November 23, 2022: Monday-Wednesday, Thursdays before 10 and after 5, and Fridays-Sunday before 12 and after 6 will be considered outside of our operating hours. Events outside of these are subject to rental rates and will be considered on a case by case basis.
Thank you again for your understanding and we hope to see you soon!