The Turney Home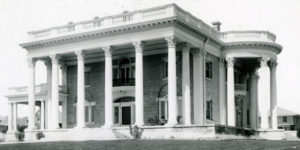 The International Museum of Art is housed in the beautiful Turney home designed by Henry Trost. turney_home_trostThis home turned museum is now home to collections from Asia, Africa, and many points both near and far.
Mr. and Mrs. W.W. Turney
Mr. and Mrs. William Ward Turney were the original owners of the building which houses the International Museum of Art. They were prominent El Paso citizens who are credited with contributing to the growth of the modern city.
Mr. and Mrs. W.W. Turney
Today the upstairs of the Turney home is used for offices, while the main and lower levels serve as the Museum's galleries. The servant's quarters of the carriage house are rented out to help the Museum with operational costs. Every effort has been made to keep the home in its original condition, and the Museum's custodial and maintenance staff continue to preserve this historic building.