Red Room
The International Museum of Art believes in supporting the work of artists living in the greater El Paso/Southwest region. The Red Room Galleries on the lower level are devoted primarily to these great painters of this region.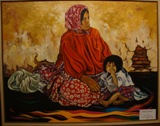 Still, diversity of style and subject matter abound. El Paso truly is a haven for artists from all schools, styles, and media.
The Museum continues to add to its permanent collection of local/regional art through purchase awards at its annual exhibits such as the Sun Bowl.