Sun Bowl Art Exhibit 2021
(please click on the link above to download the entry form and information)
SUN BOWL ART EXHIBIT 2021
CALENDAR   
Wed. - Nov. 3, 2021                  

Deliver artwork        10 am – 4 pm
Wed. - Nov.10, 2021  

                  Opening Reception  5 pm – 7:30 pm
Wed. - Jan.5, 2022

                      

Pick-up artwork       10 am – 4 pm
ENTRY
Entry fee is $50 for submission of up to three photographs of paintings or sculpture.

Make checks payable to International Museum of Art.
No Photographs needed to enter
Sun Bowl Art Exhibit
The Sun Bowl is the Southwest's longest running art exhibit. Originally dubbed the Sun Carnival Art Exhibit at its inception in 1949, the International Museum of Art along with the Sun Bowl Association continues the long El Paso tradition of the integration of artistic and athletic excellence.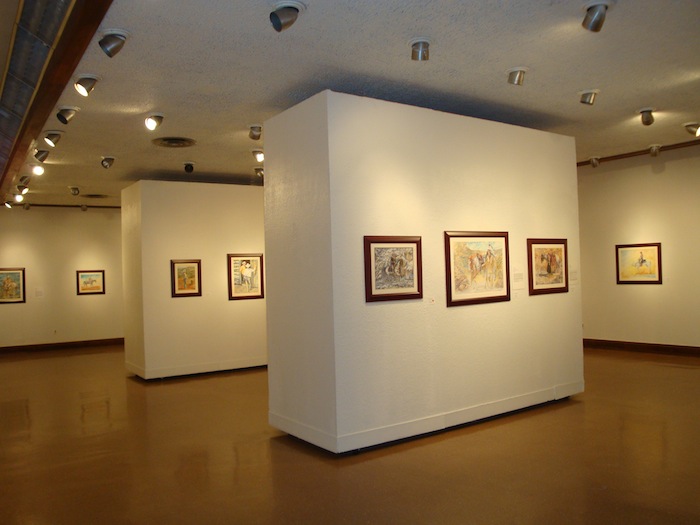 Information
Each year, the International Museum of Art sponsors the Sun Bowl Art Exhibit, a juried competition featuring the top artists from all over the country. The exhibit is held in conjunction with the Sun Bowl festivities, and typically runs from November to December. Check our calendar for exact dates. Since the International Museum of Art is along the Sun Bowl Parade route and houses the Sun Bowl sponsor parade viewing party, this exhibit provides an opportunity for all involved in the Sun Bowl festivities to see this yearly show. There is free general admission while the Sun Bowl Art Exhibit is on display, the public is welcome to come and view the works at this, the Southwest's largest juried art exhibit. All items on display in the exhibit are available for purchase and selected items are also available in our online store.
General admission to the International Museum of Art is always free
If you've missed this year's exhibit, we hope you'll visit the Museum's special and permanent collections as well as our other changing exhibits (check our calendar).
Sun Bowl Art Exhibit
The International Museum of Art seeks top art professionals to judge each year's exhibit. Past jurors have included: Bill Bissell, Fred Chilton, Internationally known artist; former director of the Texas Commission on the Arts Ricardo Hernandez, Chairman of Forbes magazine Christopher "Kip" Forbes, and internationally renowned sculptor John Sherrill Houser. For more information, please contact the Museum.
For Artists
Artists interested in submitting work for display in the Museum for the Sun Bowl Art Exhibit or other exhibitions can find more information contacting the Museum.