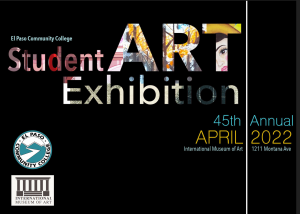 EL PASO COMMUNITY COLLEGE ANNOUNCES THE 45TH ANNUAL STUDENT ART EXHIBT
In collaboration with El Paso Community College, The International Museum of Art El Paso will present the 45th Annual EPCC Student Art Exhibition in the Turney -Youth Art & Education Gallery.
The exhibition runs from Saturday, April 2nd –  Saturday, April 30th
---
The annual student art exhibition is an event that highlights the artistic achievements of EPCC's students in the visual arts programs. The exhibition features work created during the past year by EPCC students at all levels from across the College District. Like in years past, the 2022 Student Art Exhibition features extraordinary art and design work from a highly diverse group of students spanning multiple creative disciplines. From paintings and sculptures to digital design and animation, there is no shortage of talent, creativity, and skill on display from across our college community!
"The Annual Student Art Exhibition is the culmination of the year's hard work by our talented and dedicated students," said EPCC Professor and Coordinator of the Student Art Exhibition Zoe Spiliotis. "Having the opportunity to share the students' artistic achievements with the College and with the greater El Paso community every year is an unforgettable experience for the students. And as 2022 is our first live exhibition since the pandemic started, it is sure to be no exception."
All artwork selected for exhibition in the student art show is juried by recognized art and design professionals. This year's guest Juror is acclaimed artist Laura Turon. Turon will also select show's award winners. In addition, Turon will select the winners for the numerous art awards that will be given out by El Paso Community College and other art community members for the students' artistic talent and originality.
The International Museum of Art El Paso has generously offered the Turney-Youth Art & Education Gallery to hold the 2022 Annual Student Exhibition. The International Museum of Art and EPCC share an ongoing vision that art and art education is a crucial component of a thriving and productive society.

The student show coincides with the EPCC Faculty Art Biennial Exhibition being held in the North Gallery of the International Museum of Art also during the month of April.

There will be a joint opening reception honoring the students and faculty on Saturday, April 2 from 2:00 to 4:00 pm, which will be free and open to the public.