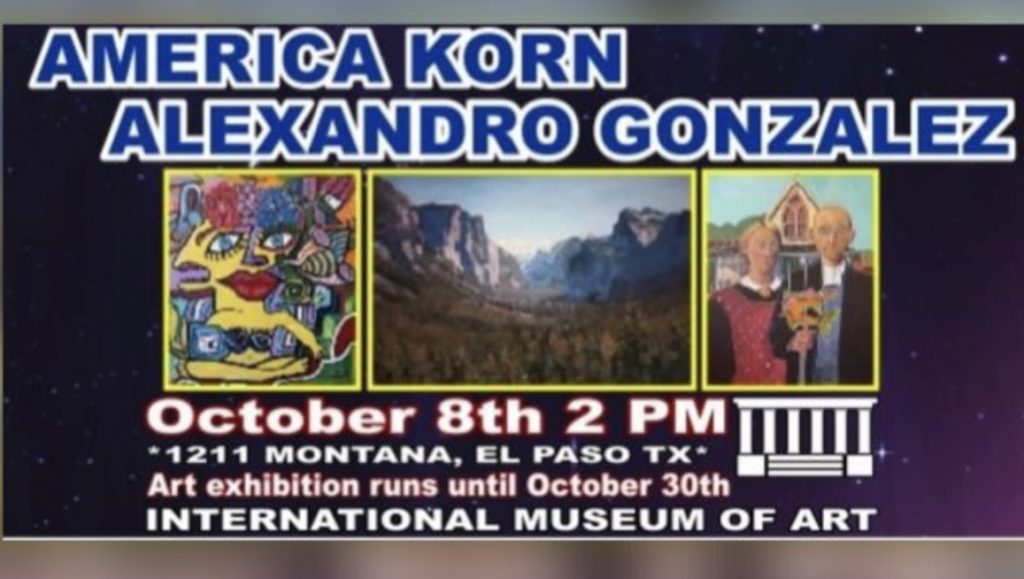 The IMoA is proud to announce a duo artist show America Korn & Alexandro Gonzalez. We loved showcasing their work last year and we're so excited to have them again.
The show opens October 8th 2022 from 2-4pm and will run until October 30th. Members are invited to an exclusive first look  October 8th from 1 – 2pm. If you would like to particpate in this and upcoming members events you can become a member today! Click Here for more information. 
---
Meet The Artists!
America Korn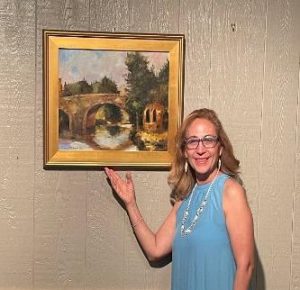 America Korn is a native of Chihuahua, Mexico. She received a Bachelor of Science in Industrial Relations and Business Administration at Chihuahua Technological Institute. After a long career as a Human Resource Manager in Manufacturing, America began her journey as an artist. Her passion for oil painting has been inspired by nature and her natural surroundings. Her growth as an artist has been nurtured under the direction of several prominent El Paso artists including Aleksander and Lyuba Titovets, Krystina Robbins and R. Maximos.
           America has exhibited her art both in El Paso, Tx and Juarez, Mexico; including at the International Museum of Art, Art Nova Gallery, Through the Looking Glass Gallery, Titovets School of Art Exhibitions, Hispanic Heritage and the Rotary Club of Cd. Juarez, Mexico.
America has worked to promote and exhibit the works of several local artists including Natalia Savchenko at the International Museum of Art; Carmen (Kany) Rodriguez at the Art Nova Gallery, International Museum of Art, and the General Mexican Consulate in El Paso, Tx. America has two children and resides in El Paso, Tx. with her husband.
---
Alexandro Gonzalez
           Hello my name is Alexandro Ricardo Gonzalez-Licon. Born in Chihuahua, Mexico, I lived with my parents until age 10, then began a voyage that would take me to Rome, the world and also to meet its most fascinating people. My godmother, actress Linda Christian, Tyrone Power's wife, was instrumental in my education in Mexico, Italy, Switzerland and the U.S. I also travel to many places like Russia, India, China, Africa and Naples, Venice and Scorpio island aboard the yacht "Christina" with Mr. Aristóteles Onassis, Opera singer Maria Callas and Sir Winston Churchill, et all. I also travel to Jordan as guest of his Majesty king Hussein I. in 1967 was drafted, by U.S. Army, I served in Korea, Vietnam, and Italy as a combat medic, earning among others the "Soldiers Medal for Heroism", "Purple Heart", "Bronze Star", "Army Commendation Medal. While in Mexico I worked in 16 films, as "script" and "Assistant Director"Back in the Middle East became food and beverage manager at the five star Al-Mansur-Melia Hotel in Baghdad and latter in Kuwait. While guest of king Hassan of Morroco I work in the elaboration of a hotel in Tetouan.
            For 16 years I lived while being the private secretary to the president of Mexico José López Portillo in his household. Graduated from USC with a BA in international relations, did some graduate work in Middle Eastern Studies and Islamic history in several universities in the U.S., Mexico and Europe earning several masters and a PhD, I speak several languages and now I've been painting for a year and a half under the best painting teacher Of El Paso, Maximus from Art Nova, the atelier is located at the sunland park mall, everything I know about painting I owed to him, I've been living in El Paso Texas for 11 years now I am a widower and I'm happy to be able to exhibit my work at this time at the International Museum of Art.