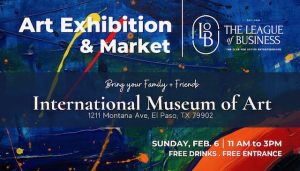 Sunday February 6th from 11 am – 3pm The League of Business, The Club for Active Entrepreneurs will be hosting the opening day of a two week Art Exhibit. Which will include a market with Local Vendors; Sunday February 6th. 
In addition there will be a live painting demonstration from featured artists
The event is Open to the Public, and drinks will be available for visitors on opening day.
Featured Artists are:
Brianna Miranda  – Carolina Villareal  –  Cristian Cruz  –  Javier Estrada  –  Krystal Molina  –  Lorena Garcia  –  Mauricio Mora  –  Mark Rojas  – Vanessa Clark and Patricia Beckman
For More Information please visit The League of Business
https://www.thelobclub.com/event-details/art-exhibition-market