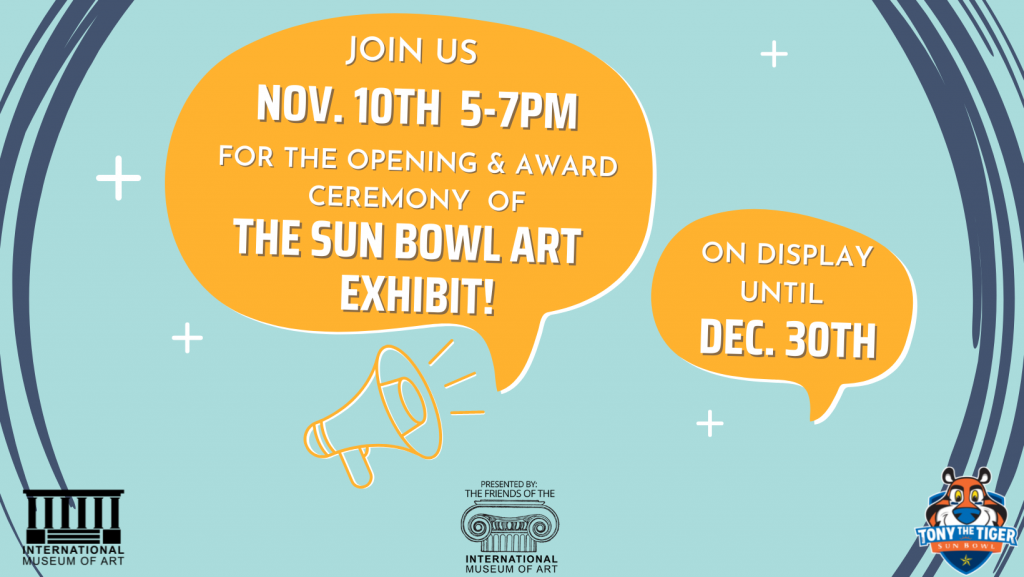 Hosted in collaboration with Tony the Tiger Sun Bowl @tonythetigersunbowl and our sponsors, The Friends of The IMoA, we are honored to bring you the longest running art show in the Southwest, and showcase this region's amazing artists and their talent. Join us for the opening day November 10th 5-7pm for our award ceremony and a light reception.
IMoA Members will have access to a VIP lounge on the opening night! Members please RSVP by calling us at (915) 543 – 6747 or email at international.art.museum@gmail.com 
If you'd like to become a member today click here for more information!
The exhibition will run until December 30th.
---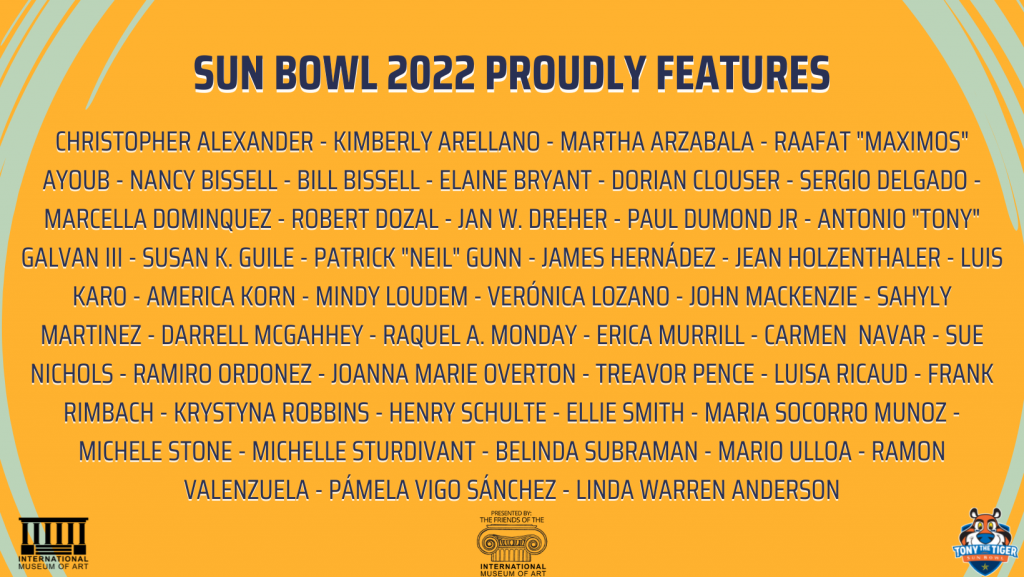 Sun Bowl 2022 Proudly Features
Christopher Alexander – Kimberly Arellano – Martha Arzabala – Raafat Ayoub – Nancy Bissell – Bill Bissell – Elaine Bryant – Dorian Clouser – Sergio Delgado -Marcella Dominquez – Robert Dozal – Jan W. Dreher – Paul Dumond Jr – Antonio "Tony" Galvan III – Susan K. Guile – Patrick "Neil" Gunn – James Hernádez – Jean Holzenthaler – Luis Karo – America Korn – Mindy Loudem – Verónica Lozano – John Mackenzie – Sahyly Martinez – Darrell McGahhey – Raquel A. Monday – Erica Murrill – Carmen Navar – Sue Nichols – Ramiro Ordonez – Joanna Marie Overton – Treavor Pence – Luisa Ricaud – Frank Rimbach – Krystyna Robbins – Henry Schulte – Ellie Smith – Maria Socorro Munoz – Michele Stone – Michelle Sturdivant – Belinda Subraman – Mario Ulloa – Ramon Valenzuela – Pámela Vigo Sánchez – Linda Warren Anderson