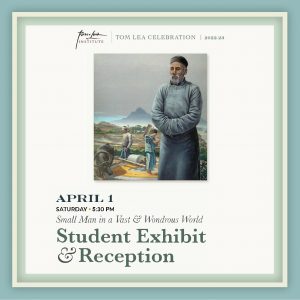 The IMoA is proud to announce the collaboration with The Tom Lea Institute, in "Small Man in a Vast & Wonderous World – Tom Lea's China", as a part of Tom Lea Celebration. April 2023 we will be holding a juried exhibit of student art. First, art teachers all over El Paso will give a lesson about Tom Lea's landscapes on the theme "Small Man in a Vast & Wonderous World." Then, students will create artwork based on the theme.
---
Thank you to everyone who participated in this year's show, and a big thank you to the Tom Lea Institutes team!
Congratulations to the winners: 1st Liliana Meza Marquez, 2nd Jesus Herminio Bujanda, 3rd Kimberly Estrada, 4th Brisa Alvarez. Keep creating!
---
Winners Gallery
The IMoA is honored to celebrate student winners for the Tom Lea's China high school art competition, held in partnership with the Tom Lea Institute. The winners participated in our Turney Youth Gallery program where they learned best gallery practices while hanging their own artwork. Special thank you to Susan and Arturo from the Tom Lea institute for helping us teach these young artists!