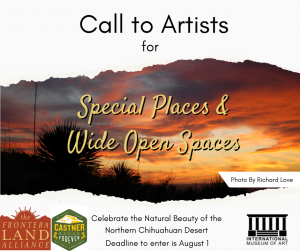 ---
We are excited to be partnering with the Frontera Land Alliance to bring you "Special Places and Wide Open Spaces" to celebrate the natural beauty of the northern Chihuahuan Desert! Artists, photographers, sculptors are invited to submit work in all mediums with the theme that captures the unique landscapes, flora and fauna of the lands the Frontera Land Alliance preserves.
The show is open to individuals 12 years of age or older who have been inspired by the northern Chihuahuan Desert. There is no fee to enter! Please read the entry form before entering. 
The Frontera Land Alliance protects – forever- natural open spaces, farms and ranches, watersheds, and wildlife of the northern Chihuahuan Desert.
---
Enter today through google forms or submit your entry card in person or through mail.
Participants are allowed to enter up to 3 works. The submissions must follow the entry form guidelines in order to be accepted. Deadline to enter is Tuesday, August 1.  Selected work(s) will be made known to the artists by Monday, August 14, 2023. The show will open Sunday, September 3.
All hung works must follow gallery guidelines. Please click here to learn how to properly install frame wires. Information taken from bbartcenter.
---