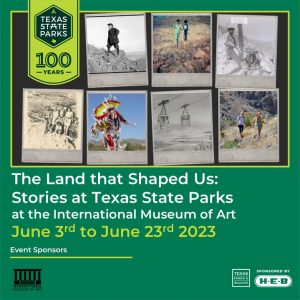 ---
Texas Parks & Wildlife Department presents "The Land that Shaped Us: Stories at Texas State Parks"
Join us for the opening reception June 3rd 2023 3pm-5pm
Experience the stories that have formed our Texas State Parks in El Paso through this photograph exhibit. As we look back 100 years to the establishment of our Texas State Park system; we come across many people, memories, and stories that have shaped our parks and communities.
Celebrate 100 years of Texas State Parks by exploring our exhibit and sharing your own stories.
---
Thank you to everyone who visited and participated in the show. A special thank you to the El Paso Texas Parks Team from The Wyler Aerial Tramway, The Franklin Mountains and Hueco Tanks for putting on an amazing show! Click here to read an article about the show!