Join us for opening of Carmen "Kany" Rodriguez, Art Exhibition and Sale.
Opening Saturday January 8th at 2 pm – 4pm
The exhibition will run until Friday, February 4th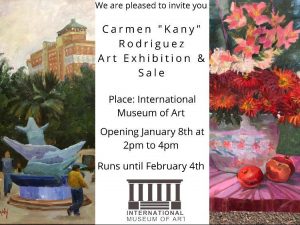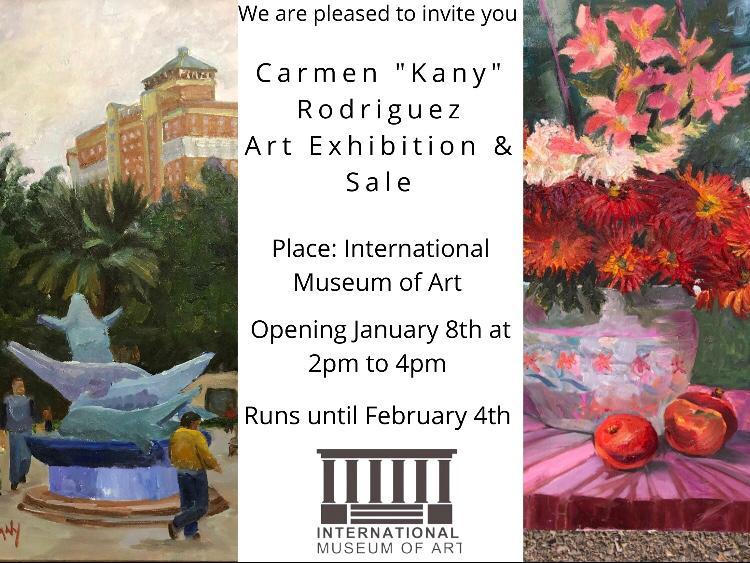 Carmen 'Kany' Rodriguez
1950 – 2010
Born in Chihuahua, Mexico, she started her artistic journey in 1990 in the Centro Artesanal in Mexico  
In 1997 she continued her work and education in El Paso, Texas, working in watercolor under renowned artist Hilda Rosenfeld. Carmen fell in love with artistic style known as 'Impressionism' after studying under world renowned artists, Aleskander and Lyuba Titovets. Under their expertise, Carmen's hobby turned into a flourishing profession
Kany participated in many exhibitions in El Paso, TX, New Mexico, and Oregon. She was a member of the Oil Painters of America, American Impressionist society and the El Paso Art Association. Carmen was a founder member of the group Classical Impressionist of El Paso.
Her paintings can be found in private and public collections and business offices in the United States and Mexico
When asked about her feelings on her many years of painting, she responded:
"My enthusiasm to paint, to create and mold my ideas in an empty canvas is part of my everyday life. My work has taken another dimension because now I have the knowledge that I'm harvesting continuously. Is with this knowledge that I start my days with an empty canvas and the satisfactions of finishing and idea or a goal every time more complex.
 My vision of everyday life has changed, and now I see unique expressions and characteristics in every person and every situation. I see the greatness of the sundown, the magnificence of the past's architecture, immensity of the sea, the sadness of the eyes, and the happiness of a little boy.
There is in our world, an endless amount of ideas that can let my imagination be free to create whatever I wish; ideas that can be painted in an empty canvas so that future generations can appraise the 21st century"                                                     
– Carmen 'Kany' Rodriguez