"Art Provides an outlet for the creative expression supporting both the Solider and the family in the transition through the challenges of military life."
We are honored to host the Veteran's Day Exhibit with the Soldiers Art Workshop; a 501(c)3 foundation dedicated in supporting art workshops for Active Duty Military, Veterans and their Families.
On display will be the artwork from the past workshops from the Solders and their Families as well as local artists including; Bob Adams, Dorian Clouser, Neil Gunn, John McKenzie, Carmen Navar and Candy Mayer. 
Join us Nov. 5th from 2pm – 4pm for the opening. The raffle drawing of Candy Mayer's work "1893 Cavalry Barracks", will take place at 3pm. In addition a silent auctions of original work will take place. The exhibition will be on display from until November 27th.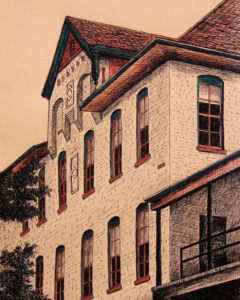 You can purchase raffle tickets at the IMoA, for $5 each, tickets are limited. All proceeds go to the solider arts workshop.
---
Meet The Artist
Since moving to El Paso from Iowa in 1999 Candy has embraced the area and creates landscapes and still lifes of the borderland; in pastels, acrylics, pen & ink as well as mixed media collage. Influenced by the colors and light of the southwest. She is known for scenes of El Paso and her love of drawing and architecture is evident in her historic El Paso Downtown collages. Her travels in Mexico have inspired her Guadalupes, Saints, and Angels done in a Mexican folk art style. She has used her original paintings to design three different loteria games:  Loteria El Paso, Loteria Dia de Los Muertos and Guadalupe & Angels Loteria. 
Candy's most recent works are her pastels done in a Van Gogh style. She uses a dark background with vibrant colored pastel applied similar to Vincent Van gogh's brushstrokes.
She has been featured in shows; with The El Paso Art Association, Solo shows at the Hal Marcus Gallery, the "Desert Modern – El Paso Art 1960 – 2012" show at the El Paso Museum of Art, Las Artistas and the Ruidoso Art Festival. Her art has graced the cover of the El Paso scene 35 times. 
Her work is available to purchase at The Marketplace on 5034 Doniphan. Including prints, cards, games and other items. You can also find her at local art fairs, her home studio and the IMoA gift shop.  Click Here to visit her website!
---
Soldiers Art Workshop
The Soldiers Art Workshop has conducted over 100 workshops since 2014 in a variety of mediums including drawing, painting, photography, mixed media & jewelry. With workshop artists such as Carmen Navar, Bob Adams, Dorian Clouser, Rami-Scully, Candy Mayer, John Mackenzie and Connie Weaver to name a few. 
For Volunteer and Sponsorship Information, Please contact
Ltc (Retired) John R, Robbins:
Solider Art Workshop Foundation
Email: jrronyucca@sbcglobal.net
The principal objective of the Soldiers Art Workshops Foundation is to assist Ft. Bliss MWR in the development of the on-site Arts and Crafts facilities and programs to support active duty soldiers, their dependents and qualified military veterans. Our program brings to the Ft. Bliss Resiliency in Art Program , Volunteer Professional Artist and supplemental funding for student captial equipment and class materials through foundation grants and local business/organization sponsorships.