We are thrilled to announce that the Soldiers Art Workshop and SKIES Youth Art will be having their yearly exhibition and the IMoA. Over 60 original art works by their Artist-Instructors will be for sale. Opening reception will be held Saturday, November 4th 2pm – 4pm. The raffle drawing will occur at 3pm.
Sales & raffle proceeds are used to support the Solider Art Workshops for our Active Duty Soldiers and their families.
Raffle tickets can be purchased at the IMoA for $5 a ticket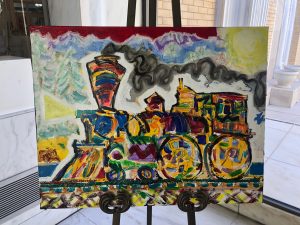 This year's piece is "Woodburning Locomotive" by John MacKenzie, oil on canvas, 22×28 gallery wrapped.