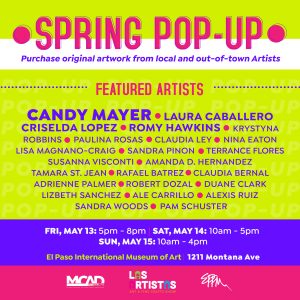 The International Museum of Art is happy to host Las Artistas Weekend Pop-Up Event and Art Rocks El Paso
Las Artistas invites the community to attend an eventful weekend happening on May 13-15, 2022 at the International Museum of Art that will showcase the artistic talents of up-and-coming artists, as well as the works of local renown artists.
Las Artistas will also be hosting the Spring Pop-Up happening Saturday, May 14 from 10 a.m. to 5 p.m., and Sunday, May 15 from 10 a.m. to 4 p.m. This event will feature the works of 20 local artists including Candy Mayer, Terrance Flores, and Krystyna Robbins. Along with that, this year the organization has partnered with El Paso artist Christin Apodaca to create limited-edition Las Artistas 2022 merchandise. Attendees will have the opportunity to purchase these items at the pop-up event.
Don't forget to save the date for the Las Artistas Arts and Fine Crafts Show 2022 taking place on November 19 – 20 at the Epic Railyard Station. This event is made possible with the support of the Museum and Cultural Affairs (MCAD) Cultural Funding Program.