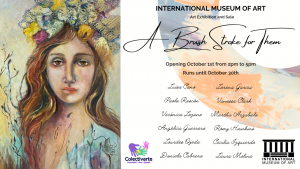 "When your voice is suffocated in your chest, make it beat in your heart or express it through art… But women, don't silence it!"
The IMoA is proud to announce Una Pincelada Por Ella – A Brushstroke for Them. A collective show of 12 women artists from El Paso, Tx and Chihuahua, Mx. Organized by Colectivarte, a civil organization founded by a group of women artists and human rights defenders that arose to respond to the wave of violence between 2010 and 2015 in Ciudad Juárez. 
The show is "In honor of all the women who have been deprived of their voice, their dreams and their lives…" Lorena Garcia 
The exhibit proudly features:
Luisa Cano – Lorena Garcia – Paola Rascón – Vanessa Zavala Clark – Verónica Lozano – Martha Azabala – Angélica Guerrero – Romy Hawkins – Lourdes Ojeda – Cecilia Izquierdo – Daniela Cabrera – Laura Molina
---
The Public Opening Reception Will be from 2 – 5pm, October 1st. The show runs until October 30th.
All Artwork on display will be for sale.
We will be having an exclusive members early showing from 1 – 2pm, with a light reception. If you would like to participate in this and upcoming members events you can sign up to become a  member today!
Current IMoA Members please RSVP by emailing us at international.art.museum@gmail.com or calling us at (915) 543-6747